Feed the troops easily with this simple one tray bake. Its deliciously easy!
You will need (to serve four):
1.2kg skin on chicken pieces (thigh or leg are great)
3 tblsp Jenny's Kitchen Tamarind Chutney
1 tblsp Honey
1 tblsp light soy sauce (or regular soy sauce)
1 tblsp ketchup/tomato sauce
1 lemon
Oil
Vegetables to roast. We used:

1 red onion peeled and cut into wedges
2 carrots peeled and cut into large chunks
2 parsnips, peeled and cut into large chunks
1 kumara, peeled and cubed
2 potatoes, peeled and cubed
2 capsicum, de-seeded and quartered
Spring onion to garnish (optional)

To prepare your tray bake:
1. Preheat oven to 200°C
2. Mix Tamarind Chutney, honey, soy sauce and ketchup in a large bowl.
3. Add the chicken and mix so the marinade covers all pieces.
4. Line an oven tray with baking paper. Place the prepped veges and lemon in a single layer, season with salt & pepper. Drizzle with 2 tblsp oil. Bake for 15 minutes.
5. Remove veges from the oven and mix them. Place the chicken pieces skin side up on the top. Reserve the marinade. Bake for 20 minutes.
6. Brush or spoon remaining marinade over chicken pieces. Bake 20 minutes or until the vegetables are soft and the chicken is just beginning to char. Ensure juices from the chicken run clear when pierced at the thickest part.
7. Scatter over the spring onion before serving.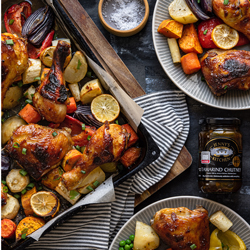 © 2020